Bacnet Room Setpoint & Temp Display
$25.00
Bacnet Room Setpoint & Temp Display can be used in environment monitoring and controlling in industrial,commercial and other buildings,Modbus RS485/Bacnet MS/TP for direct digital reading on all models.
Product Highlights:
The output signals and RS485 are hardened up for overvoltage and power supply crossed over.
Display in degrees Fahrenheit or Celsius(connection to Bacnet).
The LCD is a bitmap so we can show network connectivity.
The user can confiure what they want to show on the display: network activiy, baud rate, protocol,etc.
You can show a user setpoint so you can use it as a room /setpoint display.
Modbus RS485/Bacnet MS/TP for direct digital reading on all models.
Dimension:

Wiring Diagram: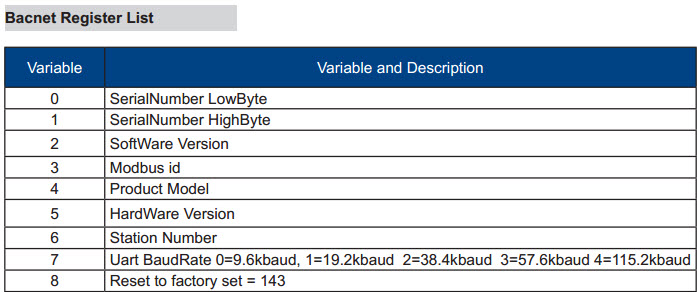 The register list can be downloaded as an excel spreadsheet (ModbusBacnetRegistersListRev9.xls)at the following link:
https://www.temcocontrols.com/ftp/software
Related Products
Availability: In stockOut of stock

This sensor is used to measure water temperature of heated or chilled water and other liquids in mechanical systems. The sensor is called an immersion type where the sensor is mounted in a brass or stainless steel thermowell which allows the probe to be removed from the pipe without draining the system and protects the probe.There are four thermistor based models, and one RTD version to provide compatibility with the majority of DDC systems.