These thermostats are similar to the Tstat8 which is our popular 'low voltage' Bacnet thermostat but they can handle 220VAC on the output relays. They were designed for clients outside of North America so they do not have a UL / CSA listing and are not appropriate for these markets. We have shipped thousands of units over the years to clients in Mexico, the Middle East and Asia.
Now that we have the new Tstat9 (https://bravocontrols.com/shop/tstat9-bacnet-thermostat) which is specifically designed for 220V applications we will be clearing these out at a discount price. The Tstat8-220V has high voltage relays for basically any line voltage application but are mainly used on fan coils. They operate off 24vac so you will still need a transformer to power them. The thermostats use Modbus and Bacnet protocol over RS485 so are easy to integrate into various environments.
There are 8 universal inputs which makes them great for general monitoring air filter switches, fan status contact, window switches and external temperature sensors.  The Tstat8-220V comes with the usual 5 year warranty though in practice we do repairs free for as long as you care to maintain them. Act now because once these are gone we don't plan to make more.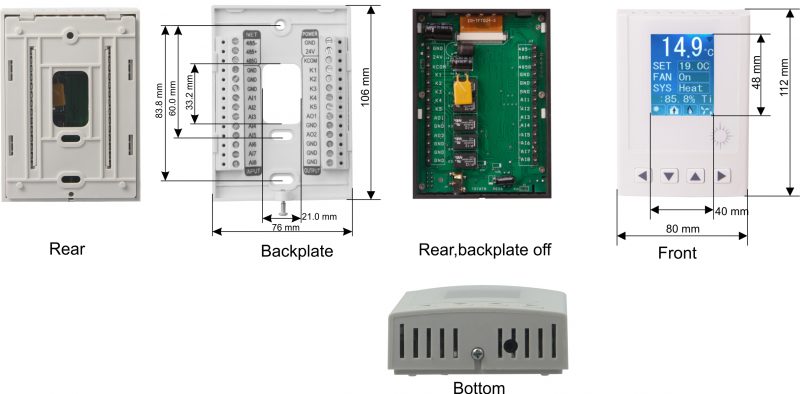 Work along with a master controller in a large system or for simpler systems,the thermostats can operate stand alone.

Wiring Diagram: