Split Core Current Transformer, 330mV output
The 330mv AC series of split core current sensors are ideal for installation on existing electrical wiring by snapping around the conductor without requiring and rewiring or interruption of the existing power cabling. UL listed product.
The current flowing through the core of this CT produces an output signal from 0 to 330mv ac, proportional to the current. The signal is a low voltage mv ac signal which needs signal conditioning before going into the typical controller.
The 330mvac signal is compatible with our T3-6CT and the Wattnode power meter on this site.
Product Highlights:
Primary Current: models from 5A up to 1000A available
Full scale output: 330mVac, compatible with industry standard power meters
Current Ratio: 3000:1
Insulation Voltage: 600Vac
Maximum Primary Voltage: 5000VAC (Insulated Conductor)
Operating Temperature: -15C to 60C
Frequency Range: 50-400Hz
Leads: 1m / ~ 3 feet, UL 1015, 2 conductor 0.34 mm2(22AWG)
UL and CE recognized, Rohs compliant
Output and leads can be customized
Secure locking hinge provides repeatable readings
Small size, low cost
Available Options:
Dimension: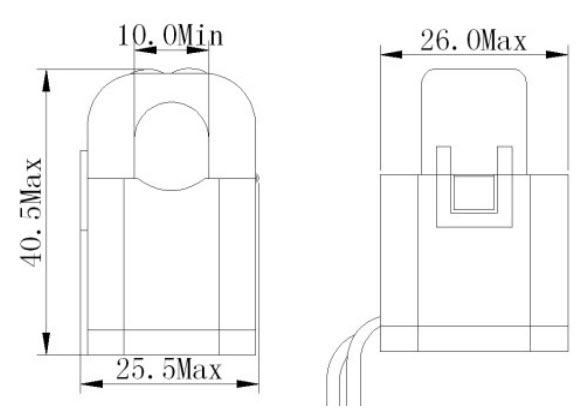 Part Number Scheme: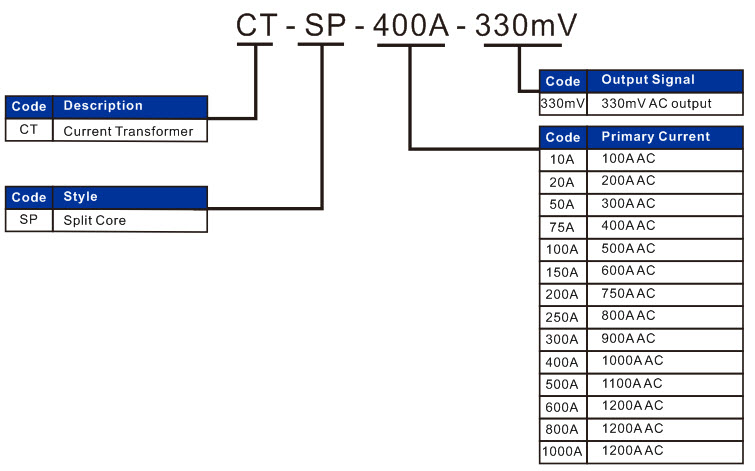 Works with:
Single Phase Power Meter
| | |
| --- | --- |
| Weight | 0.55 kg |
| Primary current | 1000A, 100A, 10A, 150A, 200A, 20A, 250A, 300A, 400A, 500A, 50A, 600A, 75A, 800A |
You may also like…
Availability: In stockOut of stock

Notice: Temporary price increase of ~$8USD due to the global CPU shortage Accept our apologies, we're not sure how long this will last but it could be a couple months

The T3E-6CT is general purpose input / ouput modules for building integrators, providing convenient termination for field devices and interfacing to your HVAC, lighting, temperature sensors, and other typical building automation applications.

Availability: In stockOut of stock

Power Meter for 1, 2 and 3 phases, 120 to 128VAC, 5 to 6000A, Modbus RTU, UL listed.
Related Products
Availability: In stockOut of stock

The current sensor is used for measurement of AC current,leakage current,
high order harmonic current,phase,power energy,power,power factor.It is portable,sharpnose,no need to disconnect the measured circuits,non-contact,safe and fast.Suitable for narrow and line densely places,can be connected with phase detection analyzer,industrial control equipment,data recorder,oscilloscope,harmonic analyzer,electric power quality analyzer, high precision digital multimeter,etc.Widely applied in electricity, Communication,meteorology,railway,oilfield,construction,measurement,scienti-fic and research teaching unit,industrial and miniding enterprises.