Split core Current Transformer, 5A output
The split core current transformer are used for monitoring power of large electrical loads and electrical services. Current flowing in the primary conductor creates a proportional current in the secondary output coil with a range of 0 to 5 amps. This is typically used to drive current indicators on large electrical panels. It is also compatible with commonly used power meters in the industry such as our Three Phase Power Meter.
are ideal where space is limited, such as when metering multiple loads within a panel board. Use for current measurement, energy metering, load surveys, demand metering, energy research, and submetering applications.
Product Highlights:
5A at secondary output, works with industry standard power meters.
Clamping style makes for easy installation
Secure locking hinge provides repeatable readings.
Sub metering grade accuracy: 1%
Small size, low cost
Range Current:models from 100A up to 500A available
UL file Number: E341727
Available Options:
Current Transformer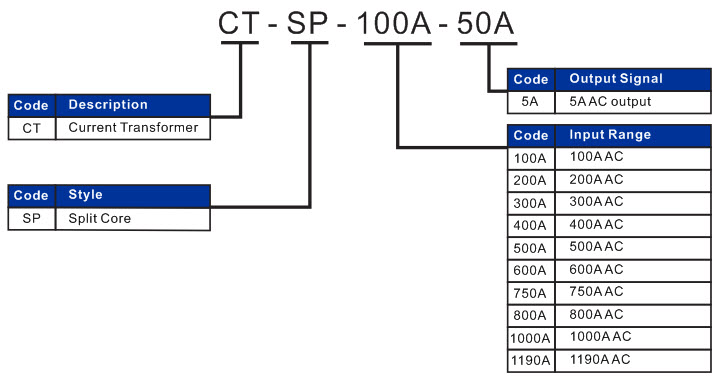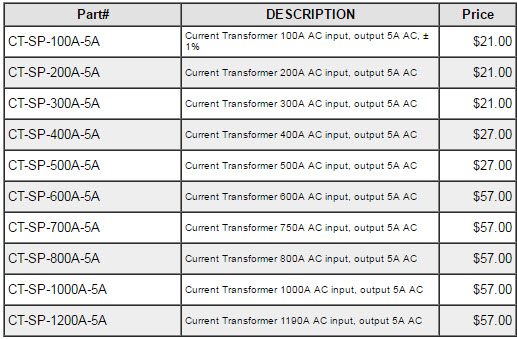 | | |
| --- | --- |
| Weight | N/A |
| Input | 1000A AC, 100A AC, 1200A AC, 200A AC, 300A AC, 400A AC, 500A AC, 600A AC, 700A AC, 800A AC |
| Output Signal | 1A AC, 5A AC |
Related Products
Availability: In stockOut of stock

The Current sensor,output 0-330mv,Current Frequency 45Hz-65Hz

Availability: In stockOut of stock

The 330mv AC series of split core current sensors are ideal for installation on existing electrical wiring by snapping around the conductor without requiring and rewiring or interruption of the existing power cabling. UL listed product.

The current flowing through the core of this CT produces an output signal from 0 to 330mv ac, proportional to the current. The signal is a low voltage mv ac signal which needs signal conditioning before going into the typical controller.

The 330mvac signal is compatible with our T3-6CT and the Wattnode power meter on this site.

Availability: In stockOut of stock

The CS series Current Sensors are solid state transducers for measuring the current in fans, pumps and other HVAC equipments.