This three phase power meter is easy to install thanks to the three Rogowski coils which can be simply clamped over existing power cables without disconnecting them.  The ME237 supports three-phase three wire and three-phase four wire systems. It provides current, voltage, power factor, reactive & active power, phase angle and other electrical parameters for all three phases. The data is available over the RS485 network port using Modbus RTU protocol. All parameters are updated in real time and can be continuously read by a master controller on the RS485 network for easy integration into the overall building management system.
The large LCD display shows many parameters locally for on the spot visual status and diagnostics.
The Rogowski coil CTs are easy to install on large size conductors and bus bars. They can be opened up and clamped shut without tools.  To furher make the installation go quickly you can make use of the unique 3-in-one CT which connects to the meter using a unique single Cat5 style connector which plugs into the rear of the meter. The output of the Rogowski coils is 330mvAC full scale for each of the three phases.
If your power cables are smaller size (or much larger) you can use this meter with any of the usual industry standard 330mv and 5A output CTs.
The RS485, power supply and the high voltage inputs are wired to the screw terminal in the usual manner at the rear of the meter.
Wiring Terminals: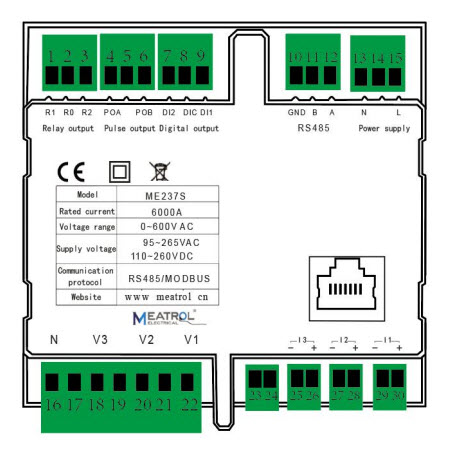 接线图:
The meter accepts the handy 3-in-one Rogowski coil CTs but also can be wired to industry standard 330mv CTs and 5A CTs. The following diagram shows the three phase terminations for both four wire and three wire systems.  Also shown is the connection through optional PT's to reduce the voltage on systems over 600VAC. Note that Pt's are not included in the pricing for this meter.

外形尺寸: