RS232 to RS485 converter
$35.00
Module T3-485-1 can change TXD and RXS signal data of RS232 serial interface to twisted pair RS485. The unti-scavenges power is from the RS232 lines so there is no need for an external power source. Pin3 (TXD) , Pin7 (RTS) and Pin4 (DTR) provide enough power. Auto flow control means you don't have to install special drivers. The cable provided connects to most Temco controls equipment directly. It can be easily cut and customized in the field or write to us and we'll make a custom version for you at no extra charge.
Product Highlights:
Self-powered
Easy to customize cable
Useful for legacy systems with no USB ports
Anti-static function, 485 side to increase lightning protection
Asynchronous, point-to-point or multipoint
T3-485-1 Converter
RS232 to RS485 Converter, DB9 Dongle Style, Self-Powered, Non-Isolated, with 2m Cable.
RS485 Comparison Chart: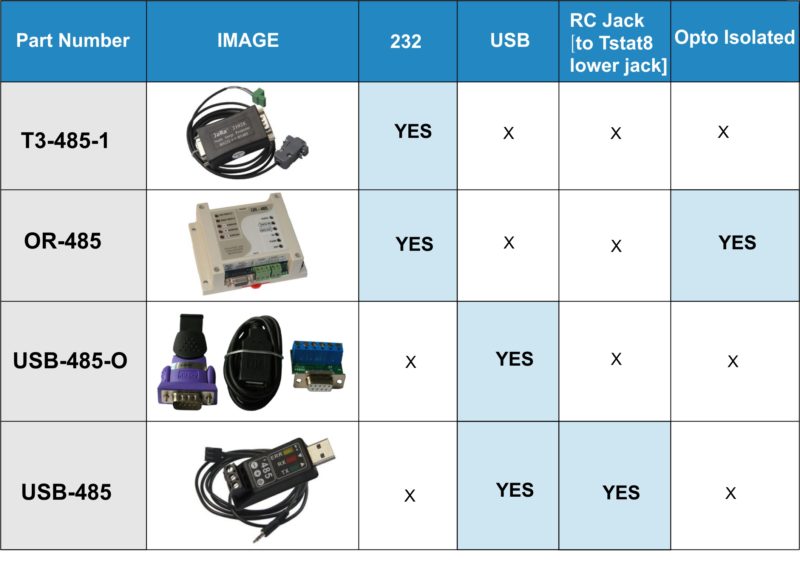 Related Products
Availability: In stockOut of stock

The OR-485 is an externally powered isolated converter/repeater with diagnostic LEDs.There are two input ports which can be designated, via jumper, as either RS232( for connection to a PC as a converter), or RS485 (for bus repeater mode). The  isolated, half-duplex RS485 output port has two separate connectors to make dividing the network simple for troubleshooting.  The diagnostic LEDs show common wiring mistakes such as short or open circuits. All protocols (Bacnet, Modbus, generic RS485 protocols, etc.) are supported.  Some of the diagnostics, such as "bad CRC" and "Modbus" error reporting, however, are available only with Modbus at 19.2k or 9600 baud.